by Joe Foster
(Canandaigua, NY USA)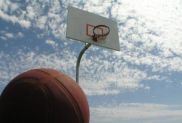 Basketball Drills
This was a drill when I played at Ithaca High School (40 years ago) under Coach Don Culligan.
We would line up out of bounds at half-court line.
Coach Culligan would stand out at center of court with ball.
He'd roll the ball a few feet towards top of the key.
Each player would have to hustle to ball….snatch it with two hands..then take it right in for the lay-up…
You couldn't try to gain control by dribbling crazily.
You had to grab it with both hands before starting your dribble to the bucket. The purpose was to reduce the number of dribbles it took to take the ball to the hoop.
It resulted in many easy lay-ups.
Even if it wasn't a situation where we could score…by snatching the ball with two hands all the time we got an awful lot of loose balls rather than kicking it away.
So many players try to do the old "Curly Neal" Globetrotters thing of trying to get possession by dribbling the ball when it is lying on the floor . The other team ends of with it or it gets knocked around… goes out of bounds, etc.
This is a wonderful drill whether you take it in all the way for a bucket or just get solid possession. Good-Luck!!