Basketball training equipment.
Today, the game of Basketball is a very competitive sport.
Everywhere you look, the gyms, playgrounds and parks are filled with the future Iversons and Shaqs of the NBA.
Most dream of being able to play in some sold out basketball arena and being the shining superstar of the team.
What separates the superstars from everyone else? Preparation! They focus on training and developing their skills. They dedicate themselves to constantly improving their game.
If you have that competitive burn inside you to be the best you can be or to take your team to the championship and win, then you need to take advantage of every resource that's going to help improve your game.
This page is filled with basketball training equipment and training aids to help take your game to new levels. Whether you want to improve your shot, jump higher, dribble like Jason Williams or be the quickest player on the court, there are tons of basketball training equipment to help you improve by leaps and bounds.
So check out these aids and see what it feels like to play like a superstar!
---
Basketball Strength Shoes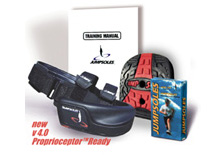 With Jumpsoles you can increase your vertical 5 to 10 inches or decrease your 40 yard dash time greatly. Jumpsoles are the worlds most popular speed and jumping training system. Take your game to another level with these amazing Basketball Strength Shoes!
---
Bandit Shooting Trainer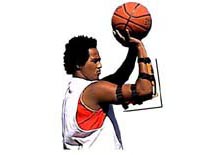 The Bandit Shooting Machine puts your arm in the proper firing position every time. It can be worn on either arm to develop right-handed or left-handed shots. The Bandit shooting machine builds muscle memory as it trains your arm to shoot with just the right amount of movement. You'll be amazed by your new shooting accuracy!
---
Basketball Training Aids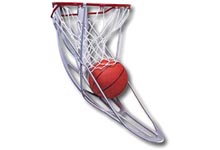 Training is vital part of improving your game. Training Aids like the Hoop Chute, the Dribble Master Training Goggles, Weighted Basketballs and agility courses are just a few things that can help you get the most out of your drills. Master your game with these Basketball Training Equipment!
---
Strength Training Aids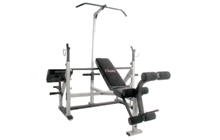 Strength Training is another vital key to becoming an top notch basketball player. Muscle is important in every aspect; shooting, driving, rebounding or playing defense. Don't overlook the improvements you can make in your game by building muscle with these Strength Training Aids!