Like to increase energy, stamina and performance? What if you gave yourself an energy boost that gives you an almost unfair advantage over your opponents?
Actually, what we'll reveal here is relevant to not only athletes, but every single person out there needing to increase their energy: weekend warriors, Moms with energetic kids, the regular guy trying to get through the day without needing that nap, etc!!!
If you're struggling with your stamina and desperately need to increase energy, read on.
Players – This will allow you to get down the floor on a fast break more quickly, jump higher for rebounds, have an overall higher energy motor and more.
Coaches – Imagine your team doing all that!
What if you didn't have to take a pill or ingest some new-fangled super drink to achieve all this? Impossible? Actually it's very possible and is happening for many people already – possibly your next opponent!!
How? Through the use of Nanotechnology.
What is Nanotechnology?
Before we get into that, take a look at what one person who is using Nanotechnology to increase energy and stamina said recently:
---
"I have had wonderful results with the (nano)technology, both in training and competition at the very highest levels. We are currently training several athletes that are preparing for the Olympic Trials and the Olympic Games and (nanotechnology is) a vital part of their training regime. We have already seen many life time best performances, including one world record."
Richard W. Quick,
Stanford University Women's Swimming Coach,
Head USA Olympic Coach-1988, 1996, 2000
Want more detailed info? Jump here: Increase Energy
---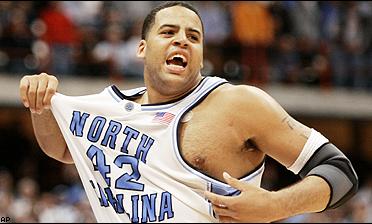 Nanotechnology Update
ESPN HEADLINE STORY
SATURDAY MARCH 26, 2005
Today's headline story with picture on ESPN is . . . Sean May celebrates college basketball's top-seeded UNC's 67-66 victory over Villanova. With his jersey pulled to the side, you can see Sean is wearing his Nanotechnology patches to increase energy. Imagine what the outcome of this championship game would have been if Sean was not wearing his patches!
---


Nanotechnology is described as "Manufactured products that are made from atoms. The properties of those products depend on how those atoms are arranged. If we rearrange the atoms in coal we can make diamonds. If we rearrange the atoms in sand we can make computer chips. If we rearrange the atoms in dirt, water and air we can make potatoes."
Dr. Steven Haltiwanger, MD CCN, an internationally renowned nutritional expert states: "(Nanotechnology) use(s) the electronic and magnetic features of the body like a cellular radio to transmit information…into the body to increase energy and stamina. This technological discovery applies research from many fields of science."
A few interesting features of Nanotechnology:
-Increase energy, stamina and performance without ingesting anything.
-Nothing enters the body.
-Resonant energy transfer occurs between user and Nanotechnology patch.
"For over a year I have monitored and recorded results from numerous college athletes and have found that the (nanotechnology) patches exceed the…claims. I am currently using the patches to provide strength endurance.""
Richard Shaughnessy
Strength & Conditioning Coach
Want more detailed info? Jump here: Nanotechnology
---
How Is Nanotechnology Used?
As you can see from the previous quote, athletes from all sports are utilizing nanotechnology to increase energy by applying a patch to the body.
The amazing thing is, nothing actually enters the body. The human body is divided into zones of electrically positive and electrically negative regions; detectable with sub-dermal electrodes. The organic patches are thus used to interact with the human body to increase energy, performance and stamina but (as mentioned previously) without ingesting anything.
---
"As the strength and conditioning coach of a small Alpharetta private Christian school and also the Dad of a senior football player at the largest school in the state, I have seen many products come and go. I have investigated Creatine, NO2, NO3, HMB and the Amino Acids. Many proclaim their ability to help an athlete get bigger and stronger. Some have worked and many have not. I cannot tell you how surprised and please I am to have been told of (nanotechnology patches). From the beginning I was skeptical but I have seen it work in my own weight room. I have seen football players who could barely bench 135 pounds for 10 reps be able, just a few minutes after putting on the patches, to rep the same weight, 20 times. What has really sold me is the fact that my own son was able to increase his rep max at 225 from 8 to 19 and reports that AFTEReach game how energized he feels."
Cecil Lancaster; C.S.C.S.
Assistant Athletic Director
Varsity Baseball Coach
Want more detailed info? Jump here: Increase Energy
---
Imagine
Increase Energy = Better Fast Breaks
Increase Stamina = Your Team Is Stronger At The End Of The Game Than Your Opponent
Increase Performance = You Score More Points, Block More Shots, Get More Rebounds, WIN MORE GAMES
Imagine doing all this by simply applying a patch to your body! Athletes all over the world are doing it (NBA, NFL, college & high school players, tennis & golf players, weight lifters, etc).
Why should you take advantage of this technology now? Because it just might cost you the championship when you play another team that acted on it.
Want more detailed info? Jump here: Nanotechnology
"I wanted to write you a testimonial about my experience with the (nanotechnology) patches. I am a former professional soccer player and have been a personal trainer for 12 years. I am amazed at the exercise endurance I get when I wear the patches. Let me give you my first day experience with the patches and you will see what got my attention.
I played tennis for 2 hours in the morning, went home and lifted weights, cut my lawn, ran with my 4 dogs (1 at a time), cleaned my house and ran with my dogs again without any drop in energy! I could not believe the difference the patches made. Since then, I have used them when I play tennis and when I lift. People always ask me how I do all the things I do in one day and I tell them the answer is simple, (nanotechnology).
I also would like to give some of the experiences I have had with my personal training clients:
• 77.2% increase in leg strength in a 4 week period for 2 of my clients (week 1 without patches and 3 weeks with them).
• My clients are gaining between 30% and 77% strength monthly."
Mike Gailey,
Former Professional Soccer Player,
Certified Strength and Conditioning Specialist
Want more detailed info? Jump here: Nanotechnology
---
INCREASE ENERGY
here
---
Notable People Who Have Used The Patch –
Updated 3/29/05
FOOTBALL, BASEBALL & BASKETBALL PROFESSIONALS
Jay Saldi Dallas Cowboy, Retired
Roy Williams Dallas Cowboy, Active
Kenyon Coleman Dallas Cowboy, Active
Randy Jones San Diego Padres, Retired
Mark Eichorn Toronto Blue Jays, Retired. 2 world Series rings
Shaquille O'Neal Miami Heat, Active
Dee Hardison 11 Year NFL Career, Retired
Randy Jones 1976 MLB National League Cy Young Award Winner. Played for San Diego Padres & NY Mets
Chris Hoke Pittsburgh Steelers, Active. Nose Tackle
Joe DeLamielleure 2003 Football Hall of Fame. 1973-1979, 1985 Buffalo Bills, 1980-1984 Cleveland Browns
Shane Rawley Pitcher for Seattle Mariners, New York Yankees, Philadelphia Philly and Minnesota Twins
OLYMPICS
Paul Hait Gold Medal Win & World Record Holder 1960 Olympics in Swimming. Stanford All American
Sam Grady 1984 Olympics — Silver in 100 meter & Gold in 4 x 100 meter relay
Peter Vidmar 2 Gold medals and 1 Silver medal in gymnastics at the 1984 Olympic Games
To increase energy, click here
TENNIS
Fred Stolle Tennis Star — 18 Grand Slam Victories
Brenda Shultz McCarthy Runs Tennis Academies. Previously Top Ten Players in the World
Chris Hagman Famous Tennis Coach. His company is Atlantic Recreational Services, Inc.
MARTIAL ARTS, ETC.
Mark Bailey World Shoot Fighters. He was #2 in the world in Ultimate Fighting
Peter Ragnar World Renowned Martial Arts Expert specializing in Qi Gong
Kevin Seaman 8th degree Black Belt. Instructor Level in 7 Marshal Arts. Teaches 17 Classes at Cornell
Professor Gary Lee Black Belt at 14. Nat'l Super Grands World Champion. USA Karate Federation Gold Metalist

Click here to increase energy
FITNESS PERSONNEL
Ronnie Coleman 7 X Mr. Olympia
Monica Brant Miss Fitness Olympia
Todd Person Owner, Metabolic Project Training Facility in LA
Greg Isaacs Known as Trainer-To-The-Stars. He is one of the most recognized fitness faces
Dayana Cadeau Ms. Olympia Lightweight Division 2004
Iris Kyle Ms. Olympia Heavyweight Division 2004
Anthony Clark World's Strongest Man
John Philbin, M.A,, CCS, CSCS Founder – Nat'l Strength Professional Association. 7 Yrs Strength Coach Wash. Redskins
Sagi Kalev Fitness Trainer and Model. Cover Model of 9/03 Muscle & Fitness magazine
To increase energy, click here
COACHES
Richard Quick Stanford Head Women's Swimming Coach. Olympic Coach
Chip Smith Campbell University Baseball Coach (NC). Compiled 200+ Victories.
Chuck Ash Head Trainer, Troy State University
Richard Shaughnessy Strength & Conditioning Coach, Troy State University
GOLF
JoAnne Carner LPGA Tour Hall of Fame Professional
Tracy Hanson LPGA Tour Professional
Jerry McGee Senior PGA Tour Professional, Champions Tour
Giulia Sergus LPGA Tour Professional, Italy
Becky Iverson LPGA Tour Professional
Barb Mucha LPGA Tour Professional
OTHER
Larry Foyt Foyt Nascar Team. AJ Foyt's son
Karl Parker, DC Owner, Karl Parker Chiropractic Seminars — Largest in the US. Dallas TX based
Karl Maret, M.D. Head of 1st Medical Survey Team to Climb Mt. Everest in 1981
Little Feat Band 102 Concert Stops in 2004. The Band has been around for 30 years.
TEAMS
2004 US Olympic Team – Some Team Members Were Wearing Patches
US Bicycle Team Tour d France
Chicago Cubs David Schmidt met with the team in Spring Practice 2005
To increase energy, click here